Arqaam Capital 10th Annual MENA Investor Conference
28 February – 1 March 2023 | The Ritz-Carlton, DIFC, Dubai, UAE
2 March 2023 | Regional Field Trip
Arqaam Capital is pleased to invite you to its 10th Annual MENA Investor Conference.
We are finally back to an in-person conference!
We are hosting the conference in Dubai, at the center of one of MENA's most vibrant financial and trading hubs. The conference will link 60+ MENA corporates with regional & international investors offering 1x1 and small group meetings.
The GCC continues to be a haven, with oil prices supported by fresh supply cuts, while global growth is slowing down due to several shocks, including 40-year high inflation, tighter financial conditions, a synchronized global slowdown, and further negative spillovers from the war in Ukraine. As such, the MENA's weight in the Emerging Market index has increased to 7.6%. We see a considerable tailwind from further FOL hikes in Qatar, UAE, and KSA, which could increase the weight to 10% in the near term.
We see further upside to the region as higher policy rates support the outlook for the GCC banks, with a partial or full pass-through of US policy rates lifting margins. At the same time, bad debt charges continue to moderate due to solid economic growth. Further support is coming from (off)budget spending, as GCC countries continue to invest in their oil sectors and economic diversification as the world remains dependent on fossil fuels in the next decade. The localization of agriculture and manufacturing, growing e-commerce, digitalization, greater 5G penetration, privatization in crucial sectors, enhanced insurance coverage, and modernization in institutional frameworks continue to support the outlook.
We are looking forward to seeing you all.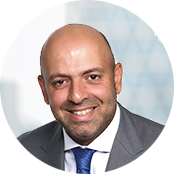 Wafic Nsouli
Head Capital Markets
How to register for the conference
You will receive an email invitation with a unique link to register your attendance for the conference.
For enquiries, or if you would like to request to attend the conference please contact events@arqaamconference.com
One-on-One / Small group meetings
We recognise that a key factor in your participation at our conference is the opportunity to meet with senior members of company management.
We will endeavour to arrange your preferred meetings where possible. Please indicate your meeting requests on this website.
We will update you on new Corporate registrations as they are received.
If you have any concerns, please contact us.
Conference Schedule
To view this content you must be logged in. If you've not received a login, please Contact us.
Attending Companies
To view this content you must login
Accommodation
To view this content you must enter your email and password. If you've not received a login, please Contact us.